History of hug Project
1. About hugjapan
We at hugjapan think that the effects of this unprecedented disaster fall mainly under two categories: damage to urban infrastructure, and psychological damage. Emotional damage such as PTSD is especially serious, as it is difficult to recognize and affects victims for long periods of time.
To those who suffered great damage from the earthquake, the smiles and laughter of children are sources of relief and hope.
Since March 17, we have frequently visited disaster areas to listen to the voices of the residents and to consider the various ways to support them. Below are the themes that we decided on as guidelines for our activities:
Provide emotional and materi al support for children in disaster areas through art and design related activities
Take concrete, local measures in order to provide long-term support for people in disaster areas
Conduct continuous interviews in disaster areas to provide accurate information to the world, and encourage understanding towards affected regions
Deliver words of support from around the world to disaster areas
Promote art and design related activities in disaster areas
2. Children in disater areas
Over 300 children lost their lives in the Great East Japan Earthquake, causing devastating effects to their families and friends. Even under these circumstances, surviving children need the time and environment to learn, play, and develop as individuals. Many non-profit organizations and local education committees are providing support to children who lost their schools. The photograph captures an emergency evacuation center in Fukushima as of May 2011. Many victims were forced to wander from center to center in the confusion of the changing circumstances. We met children who had changed evacuation centers as many as nine times over the period of one month.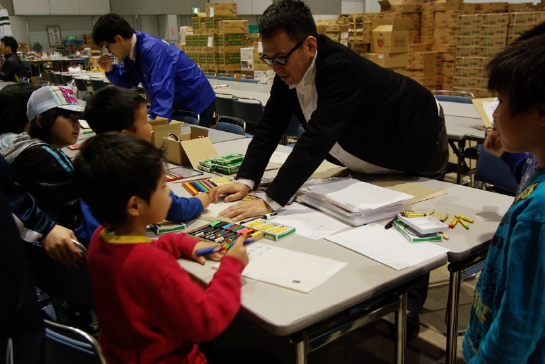 3. Relief supplies
Unnecessary relief supplies were stacked up high in living spaces in evacuation centers. The demands of life in evacuation centers continuously change over time. Delivering the right supplies at the right time is difficult but vital in supporting refugees.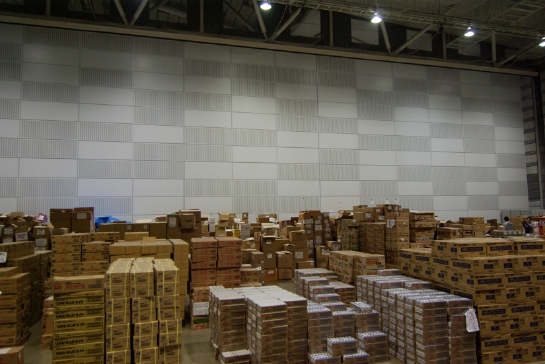 4. Sedimented harbors
The seabed at the epicenter of the earthquake is said to have dropped as much as 30 meters. The damage it caused, observed in the sunken breakwater and docks, was beyond our imagination.

5. Gasoline
In early April, we delivered gasoline to disaster areas several times. According to fire departments and rescue teams, disaster areas were in need of gasoline and fuel after roads became severed. The photograph shows the Kitaibaraki city hall and Takahagi City fire station.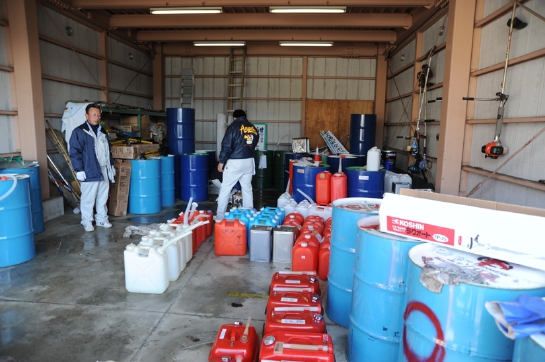 6. Schools
When we visited an evacuation center in Onagawa in late March, schools had not been reopened yet. In the confusion of life in evacuation centers, children were starting to lose the life rhythm they had acquired at school.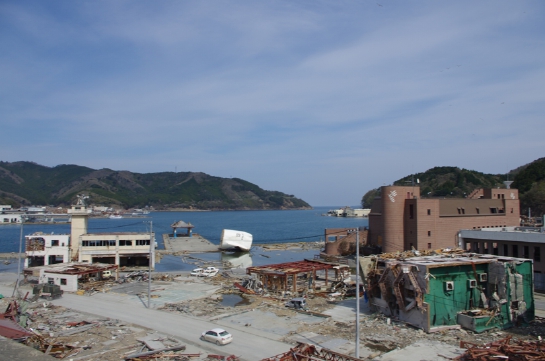 | | |
| --- | --- |
| 2011.3.11 | 14:46 東日本大震災 発生 |
| 2011.3.17〜 | 被災地の記録 撮影開始 |
| 2011.4.11 | Hug Japan 結成 |
| 2011.4〜5 | 被災地の子ども達に絵やメッセージを描いてもらう『グローバルメッセージリレー』スタート |
| 2011.5.16〜20 | ニューヨーク展示開催『WE ARE HERE』 @NY AIGAギャラリー |
| 2011.5〜6 | |
| 2011.6〜 | |
| 2011.6〜 | 『50miles』として被災地の人々、風景の記録を本格始動 |
| 2011.7〜 | 『グローバルメッセージリレー』ニューヨーク報告冊子作成 |
| 2011.7.6 | 五感による創造性向上教育プログラム構築に向けた専門家協議会を開始 |
| 2011.7.27 | 五感による創造性向上教育プログラム構築に向けた専門家協議会 |
| 2011.8〜 | 2012.3.11に向けた第2期企画 検討開始 |
| 2011.9.9〜10 | aminet 初回販売 @トヨタ フジスピードウェイ(完売) |
| 2011.10.11 | 五感による創造性向上教育プログラム構築に向けた専門家協議会 |
| 2011.10.〜 | 『五感の学校』『グローバルメッセージリレー2』実施スタート |
| 2011.11.8 | 『Sight Visiting』海外専門家を招いて被災地視察および現地住民との意見交換会 |
| 2011.12.3〜 | |
| 2011.12.23〜 | 『天心JAZZフェスティバル』大津港でJAZZバンドの音楽フェスティバル |
| 2012.3.10〜3.16 | |