March 10th – 16th, 2012



「Japan, A Year After 311」
Through March 10th to March 16th at Espace Evolution, Paris, we will display an exhibition of  "Global Message Relay," one of hugjapan's projects, and photographs and footage taken in the disaster areas. The objective of this exhibition is to accurately convey the reality of the affected areas, and to pass on words of support from around the world to disaster victims. Through spreading the circle of support, we hope to connect victims with the world and ultimately promote the swift reconstruction of disaster areas.
We will be putting on display 400 messages and drawings by children with the themes "Words to convey and a future to picture" and "My dream." We will also have visitors write messages to disaster areas, and deliver them to the children after the exhibition.
hugjapan has conducted exhibitions in New York and Taipei so far, and hopes to add more cities to the list.
For Media Inquiries Please Contact Renomée
Renomée:Nancy Chabert
■Date
March 10 – 16, 2012
10:00〜19:00 ※10:00〜15:00 on the 16th
※Seminar and reception
March 12 17:00~19:00 (Reception: 16:00)
There will be a networking event at the exhibition space for our supporters in Paris.
Free Admission
■Location
Espace Evolution
5, rue Saint Merri – 75004 Paris (métro et parking Hôtel de Ville)
,75f4f806-d7ab-40c3-b1f2-9194ac1c57f1,,
■Content
Global Message Relay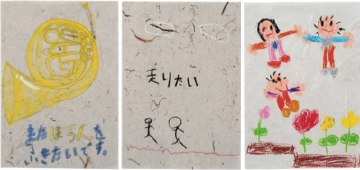 We are helping children who experienced this unpredented disaster ease their pain and fear by encouraging them to freely express their feelings through art and writing. We visited schools and evacuation centers in areas suffering from damage from the earthquake, tsunami, and the nuclear plant accident, and collected messages and drawing with the theme "Words to convey and a future to picture." We hope that showing these messages will help the world understand the situation that these children are in. We plan to bring back supportive messages from around the world to them.
■Gallery
・Global message relay
"THE DAY & AFTER"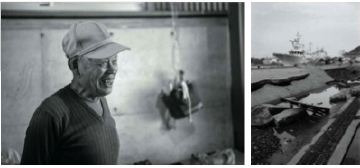 photographs and footage of the reality of life in disaster areas
"Bateaux Noel"


footage of activities in disaster areas
"Stories and Memories"



words of realization by disaster victims, a year after 311 office of the seminaries Masahiro HORIE of Tohoku Institute Of Technology
■Sponsors
Sponsor:
 hug japan Project
Producer:
 Satoshi Nakagawa,
product designer
 Department of Mechanical Engineering, University of Tokyo
 Project Professor, Design Innovation Laboratory,
 Graduate School of Engineering
 (CEO, tripod design co., ltd.)
Support:
 Embassy of Japan in France
JETRO Paris
Cooperation:
 The Japanese Committee in France
TOHOKU INSTITUTE OF TECHNOLOGY
Participating enterprises(By alphabetic order)
 Benesse Corporation
Bivio Corporation
INTEC INC.
Japan Airlines Co., Ltd.
KDDI R&D laboratories Inc
MINDHOLDINGS LLC
Nippon express Co., Ltd.
RICOH Company, Ltd.
Sagawa Printing
Tokyo Electron Limited.
Toyota Motor Corporation
Tripod design Co., Ltd.
YANMAR Co., Ltd.
Production Cooperation:
 Katsura Design Lab. LLC
Oami Konpo Corporation
TOKYO Lithmatic Corporation
Milly Bis
【Contact Information】
Please contact us in advance for interviews.
【Japan】
Shinya Abe, hug japan Paris Exhibition PR Office, tripod design co.. ltd.
info@tripoddesign.com
TEL:03-3239-5951  FAX:03-5215-5758
【France】
Renomée
Nancy Chabert
Renomée:Nancy Chabert